Home
International
Details
Russian plane crash: Putin suspends flights to Egypt
07 November, 2015 12:29
Russian President Vladimir Putin has agreed to suspend Russian air traffic with Egypt until the cause of the crash of Metrojet Flight 9268 can be determined, the Kremlin said Friday.
"Putin has accepted the recommendations of the National Anti-Terrorist Committee to suspend flights with Egypt. ... The President has also instructed to provide assistance to Russian citizens to return from Egypt. In addition, the President has instructed to engage with the Egyptian side to ensure the safety of air traffic," the Kremlin said in a statement.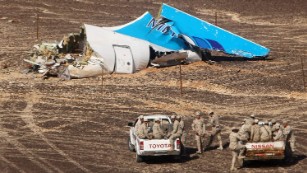 24 photos: Russian plane crashes in Egypt
Russia had until now resisted the theory that a bomb brought down the airliner, possibly because any terrorist bombing of a Russian plane could be seen as retaliation for Putin's decision to support Syrian President Bashar al-Assad and launch airstrikes against the terrorist group ISIS and other Assad opponents.
Russia's about-face buttressed a theory about the cause of Saturday's crash in Sinai, Egypt. As investigators pick through the rubble of the Russian airliner, and as Western officials sift through their own intelligence reports, some suspect that Flight 9268 was brought down by a bomb planted in its hold.
And that the bomb may have been smuggled on board in the Egyptian resort of Sharm el-Sheikh, where the flight departed.